2023 Rugby World Cup Bracket: Current format of Knockout stage
Getting a grip on the World Cup Bracket is essential as we gear up for the thrilling 2023 Rugby World Cup.
Here, we'll trace the journey of our favourite teams from the knockout stage to the finals. It'll provide a real-time tournament scenario, showing which teams are advancing to the quarter-finals, semi-finals, bronze final, and the ultimate grand finale.
And who is eliminated from the World Cup?
Rugby World Cup Bracket 2023
Stay tuned to this space for the latest Rugby World Cup Bracket updates. We will inform you about the teams' progress of each team in the knockout stage.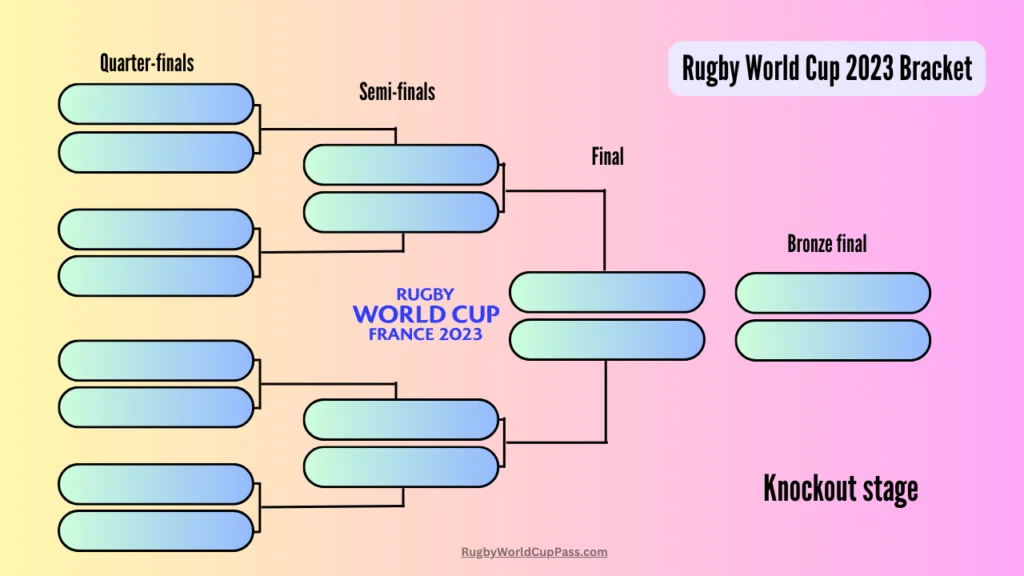 Printable & Blank Rugby World Cup Bracket 2023
To enhance your World Cup experience, we've designed a printable and blank 2023 Rugby World Cup Bracket for our readers.
Feel free to download this bracket and hang it on your office or home wall. It's a great way to stay engaged with the tournament's pulse.
Simply fill in the names of the teams as they navigate their way through the competition.
Check the Rugby World Cup 2023 Schedule
How does the Rugby World Cup bracket work?
The World Cup Bracket works as a visual tracker for the tournament. It starts with the pool stages, where teams compete to advance to the knockout phase.
The top teams from each pool enter the quarter-finals. Winners of the quarter-finals progress to the semi-finals, and the victorious teams from the semi-finals will clash in the grand finale.
Meanwhile, the teams that lose in the semi-finals compete in the bronze final to determine the third and fourth placements.