How to Watch Rugby World Cup 2023 in NZ?
You can watch the Rugby World Cup 2023 in NZ on SKY TV. For streaming all 48 matches, Sky Sport Now is your go-to platform, and Sky Open (formerly known as Prime) will air 12 matches for free.
New Zealand is abuzz with the Rugby World Cup 2023 fast approaching, where the best rugby teams will head to France for ultimate rugby glory.
For Kiwi fans, this event signifies an unparalleled sporting frenzy. Let's dig into how fans in Aotearoa can watch this global event.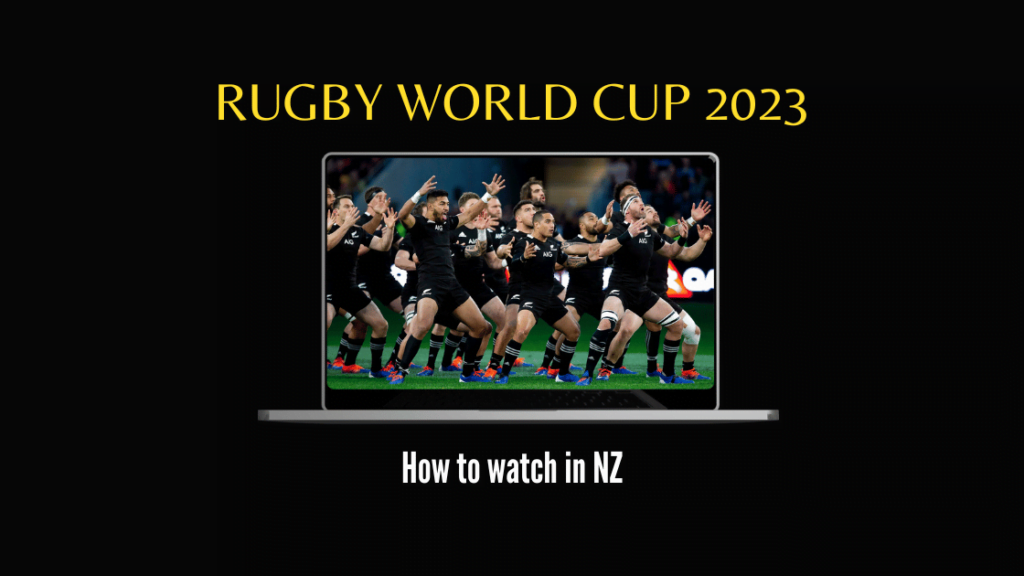 New Zealand Rugby World Cup 2023 TV Coverage & Rights
Sky holds the official broadcasting rights for the Rugby World Cup 2023 in New Zealand. All 48 matches will be available live and on-demand via Sky Sport, and will be streamed on Sky Sport Now. For those who prefer traditional TV watching, Sky has it covered.

How to live stream Rugby World Cup in NZ?
Sky Sport Now is your go-to platform to live stream the Rugby World Cup in New Zealand. Whether you prefer watching on a phone, tablet, or desktop, you can purchase a week, month, or annual pass to access the entire championship.
For those on the move, the Sky Go app also provides an ideal solution, allowing you to catch matches and highlights from your device.
Can I watch RWC 2023 live stream free in New Zealand?
Yes, free-to-air coverage is available! Prime (soon to be rebranded as Sky Open) will be broadcasting 12 matches from the tournament.
Out of these, 6 matches will be broadcast live, ensuring that even without a Sky subscription, Kiwis can revel in some of the tournament's biggest moments.
This includes one All Blacks Pool Match, Two Quarter Finals, one Semi Final, the Bronze Final, and the Grand Final.
As a free-to-air channel, Sky Open is available at no extra cost. Viewers can watch it on Sky Channel 4 or Freeview Channel 15. For on-demand or live streaming, it's accessible via Sky Go.
How to Watch Rugby World 2023: Are you outside New Zealand?
For rugby enthusiasts outside New Zealand, geo-blocking might prevent you from directly accessing New Zealand's coverage.
A reliable VPN service can help you bypass these restrictions. Connecting to a New Zealand server through your VPN allows you to access Sky Sport Now or Sky Go as if you were in New Zealand.
Always abide by the terms of service and local regulations when using such services.
Ways to Watch SKY TV in NZ: Overview and Pricing
Sky TV in New Zealand offers many viewing options for those eager to tune into their favorite shows, sports, and more. With versatile pricing plans and viewing methods, there's something for everyone.
Let's delve into the details.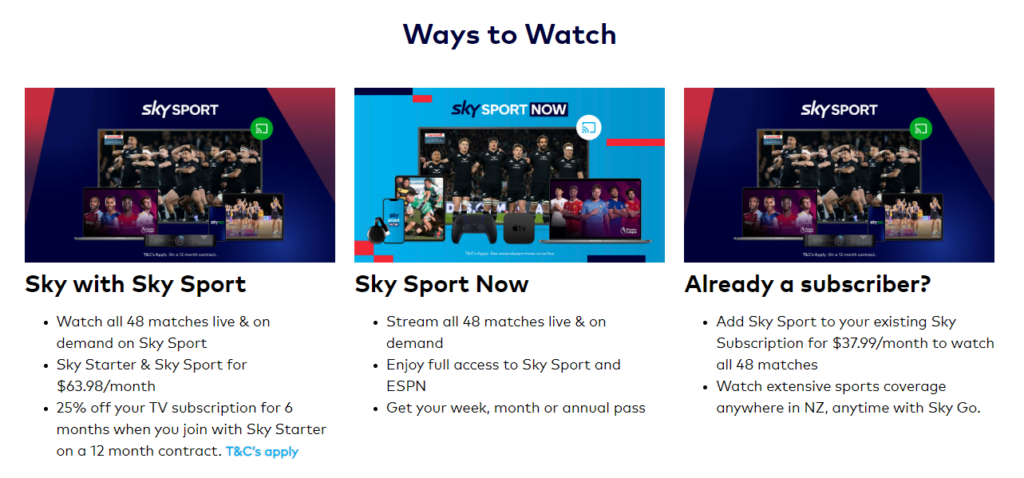 Traditional SKY Box Subscription

Description: This is the conventional method many are accustomed to – watching content through a SKY set-top box connected to your TV.
Pricing: The Sky Starter package, which includes a variety of essential channels, is priced at $25.99/month. Sports enthusiasts can add the Sky Sport package to their subscription for an additional $37.99/month. This means for full sports coverage, including all 48 Rugby World Cup matches, you'd be looking at a total of $63.98/month. Special promotions may offer discounts, such as 25% off your TV subscription for 6 months when you sign up for Sky Starter on a 12-month contract (T&Cs apply).

Sky Sport Now Streaming Service

Description: This digital streaming service lets you watch Sky Sport channels live and on-demand without a traditional satellite connection. It's ideal for those who prefer to stream content online, whether on their computer, mobile device, or smart TV.
Pricing: Various passes are available, ranging from weekly to annual. The exact price can vary, but it offers flexibility for those not wanting a long-term commitment or those wishing only to catch specific events or seasons.

Sky Go

Description: A complementary service for SKY TV subscribers, Sky Go allows users to watch content from their SKY subscription on the move. You can access your favorite shows and channels on a tablet, mobile, or desktop.
Pricing: Sky Go is included free with any SKY TV subscription. This means as long as you're a subscriber to any SKY package, you can access content on Sky Go at no extra cost.

Special Bundles and Deals

Description: Occasionally, Sky TV might offer promotional packages or deals that bundle multiple services together at a discounted rate.
Pricing: These can vary based on the promotion. It's always a good idea to check their official website or contact customer service for the latest deals.
Check out the latest SKY TV deals, discounts, and packages for RWC 2023 here.
Final Words
The Rugby World Cup 2023 promises exhilarating matchups, with teams like the All Blacks, South Africa, Ireland, and England vying for the trophy.
With comprehensive coverage from Sky and free-to-air broadcasts from Prime (Sky Open), Kiwis have multiple avenues to stay connected with every tackle, try, and triumphant victory.
Whether in New Zealand or abroad, make sure you're ready for one of the sporting calendar's biggest events.