How to Watch Rugby World Cup 2023 in France?
In France, the Rugby World Cup 2023 can be watched through broadcast channels TF1, France Télévisions, and M6, as well as their respective online platforms MYTF1, the website Live section of France TV, and 6play.
The 2023 Rugby World Cup is shaping up to be a monumental event, especially for France, as it hosts the competition.
The nation is gearing up to showcase this international rugby extravaganza, and fans are eagerly waiting to cheer their team, hoping for their first world title.
Three main broadcasters have stepped in to deliver all the action directly to French viewers, making the World Cup a shared experience for everyone in the country.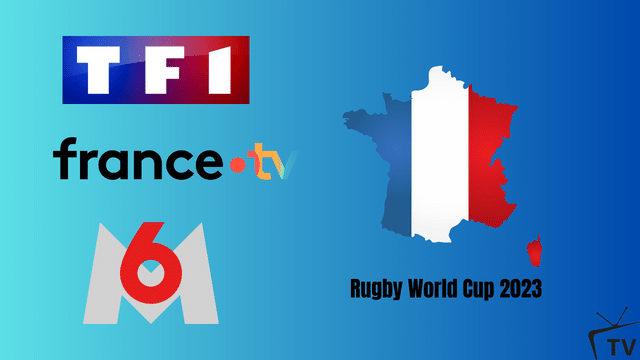 France Rugby World Cup 2023 TV Coverage & Rights
The broadcasting rights in France for the RWC 2023 are held by the TF1 Group, which plans to broadcast 20 matches, including the opening match, three group matches involving the French team, the two best quarter-finals, the semi-finals, the third-place match, and the final.
Additionally, the TF1 Group has sublicensed rights to France Télévisions and M6, allowing them to broadcast ten and eighteen matches respectively.
This setup ensures broad and comprehensive coverage across the nation.
How to live stream Rugby World Cup in France?
You have multiple options to live stream the Rugby World Cup in France. TF1's online platform, MYTF1, will stream its 20 games live. Similarly, you can watch the matches broadcasted by M6 on their streaming platform, 6play. The remaining matches broadcasted by France Télévisions can be streamed from their official website, via the Chains section.
Can I watch RWC 2023 live stream free in France?
Yes, you can live stream the Rugby World Cup 2023 free of charge in France. All three broadcasters – TF1, M6, and France Télévisions – offer their coverage for free on their respective platforms.
However, you will need to create a free account on these platforms to access the live streams.
How to Watch Rugby World 2023 outside of France?
For viewers outside of France, the broadcasting rights will depend on the region. For instance, ITV holds rights in the UK, while NBC Sports holds them in the USA.
Most of these broadcasters offer online streaming options. If you're travelling from France, a VPN might be required to access French streams and continue watching the RWC 2023.
Final Words
The Rugby World Cup 2023 is an event eagerly anticipated by rugby enthusiasts around the world, especially so by the French.
With comprehensive and free coverage promised by TF1, M6, and France Télévisions, French fans have every reason to cheer.
So, gear up to experience the thrill and passion of rugby right from the comfort of your home.