Rugby World Cup Pools 2023: Short Analysis & Preview
The Rugby World Cup is the pinnacle of the sport, featuring the top rugby teams in the world competing for the championship. France will host the Rugby World Cup from September 8 to October 28, 2023.
The teams have been seeded into four pools, and we'll break down each pool to give you a comprehensive look at the teams who will be competing in the tournament.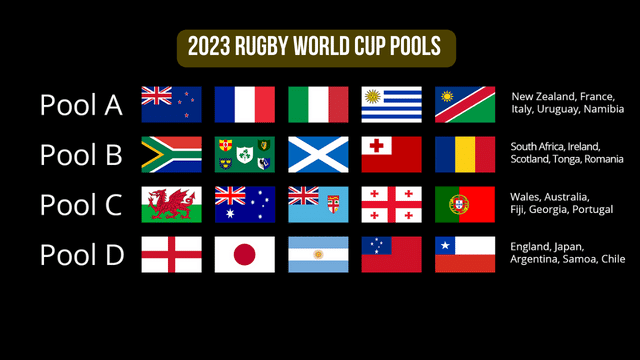 Pool A

Pool A of the Rugby World Cup presents an interesting mix of titanic strengths, dark horses, and aspiring underdogs. The All Blacks from New Zealand, renowned for their prowess and tactical brilliance, are the clear favorites to top the pool.
France, however, with their unpredictability and a fresh roster of young talent, should not be overlooked and might challenge the Kiwis for the top spot.
Though not on par with New Zealand or France, Italy offers promising potential and will aim to make a mark, possibly gunning for a third-place finish. Uruguay, though viewed as an underdog, brings tenacity to the field and could upset the pool's dynamics with a surprise win.While expected to face the stiffest challenges, Namibia will see the tournament as a platform for growth and experience.
Combining top-tier rugby nations with emerging forces, this diverse pool promises thrilling contests and perhaps a few unexpected surprises.
Pool B
Alright, buckle up for some rugby action! We've got a cracker of a group here in Pool B. First up, South Africa. They're big, they're mean, they're rugby royalty, and they're going to be a tough nut to crack for any team.
But then you have Ireland. They've got a good mix of players, old and young, and they're not afraid to get stuck in. They play smart and hard – it will be a right showdown when they take on the Springboks.
Don't forget about Scotland, though. They've got a bit of flair to their game, and they can mix it with the best on their day. They might just spring a surprise on Ireland or South Africa.
Tonga's next. Yes, they're the underdogs in this group, but let me tell you, these guys don't back down from a fight. If any of the big boys take them lightly, they might end up regretting it.
And finally, we have Romania. Sure, they're the biggest underdogs here, but that's the beauty of the World Cup. They're here to learn and fight; who knows, they might just turn a few heads while they're at it.
So, there you have it. Pool B is stacked with talent and ripe for action. Can't wait for it to kick off!
Pool C
In Pool C of the Rugby World Cup, Wales and Australia are the expected front-runners. Wales will look to leverage their structured gameplay and defensive tactics, while Australia's strength lies in their agile backline and penchant for running rugby.
However, the pool's charm lies in its unpredictability. Fiji is a dark horse known for their fast, free-flowing style. Although their discipline may be a concern, their sevens-style rugby could upset the bigger names.
Georgia, a physically intimidating side, has a powerful forward pack and might turn games into grueling battles with their tight play.
The underdog, Portugal, might be inexperienced at this level, but their zeal can't be discounted. The stage is set for some captivating rugby, with surprises potentially waiting at every corner!
Pool D
Pool D of the Rugby World Cup is set to be an enthralling affair with a mix of traditional powerhouses and rising forces in the sport. England, with their formidable forward pack and strategic prowess, enter as the favorites.
However, Argentina's rugged defense and adept tactical kicking could upset the balance. Japan, the surprise package of 2019, offers fast-paced rugby with their agile and disciplined squad.
Samoa, known for their physical and flamboyant style, could pose a challenge if they maintain consistency.
Finally, Chile, the underdogs, will look to gain experience and could surprise.
While England and Argentina are tipped to progress, in rugby, unpredictability reigns supreme, setting the stage for an exciting pool.