England Rugby World Cup Fixtures 2023: Preview, History, TV Channel
The 2023 Rugby World Cup, set to be hosted by France, has sparked interest among rugby enthusiasts worldwide. Promising to be an exhilarating competition, teams from around the globe will vie for the esteemed Webb Ellis Cup.
This article delves into the details of the Rugby World Cup Fixtures, TV Coverage, Preview, History, how to live stream online and more info for England Rugby Fans.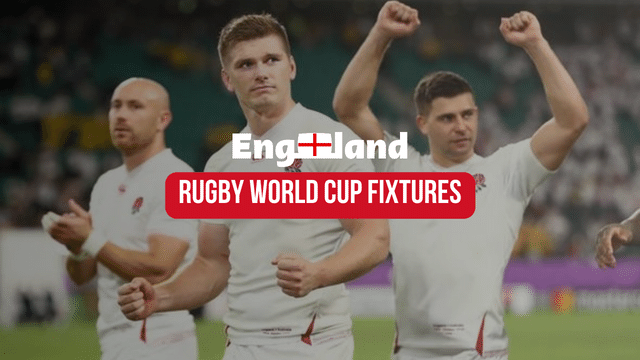 England Rugby World Cup Fixtures 2023
The England rugby team will compete in Pool D at the 2023 Rugby World Cup. They will participate in four games during the pool stages, with the top two teams progressing to the quarterfinals. Here's a look at England's Rugby World Cup Fixtures:
| DATE | MATCHUP | TIME (GMT) | STADIUM | RESULTS |
| --- | --- | --- | --- | --- |
| 09/09/23 | England v Argentina | 8 pm | Stade Vélodrome | – |
| 17/09/23 | England v Japan | 8 pm | Stade de Nice | – |
| 23/09/23 | England v Chile | 4.45pm | Stade Pierre Mauroy | – |
| 07/10/23 | England v Samoa | 4.45 pm | Stade Pierre Mauroy | – |
England RWC warm-up matches 2023 Schedule
Here is the schedule for the England Rugby World Cup warm-up matches in 2023:

5 August 2023, 17:30 BST (UTC+01): Wales vs England at Millennium Stadium, Cardiff.
12 August 2023, 17:30 BST (UTC+01): England vs Wales at Twickenham Stadium, London.
19 August 2023: Ireland vs England at Aviva Stadium, Dublin.
26 August 2023, 15:15 BST (UTC+01): England vs Fiji at Twickenham Stadium, London.
Please note that the times and venues are subject to change
Which channel will broadcast RWC 2023 in England?
ITV holds the broadcasting rights for the Rugby World Cup 2023 in England. Starting from the inaugural game on September 8, 2023, the network will air all 48 matches live.
How to Live Stream RWC 2023 Games in England?
For those without access to a television, the games can be live-streamed on ITVX. This platform is free of charge on desktops, mobile devices, and tablets. You must set up an account to commence watching the live broadcasts.
Rugby World Cup 2023 England Pool & Preview
England shares Pool D with Argentina, Japan, the United States, and Tonga. The team aims to top its group and advance to the next stage.
England's first pool-play adversary will be Argentina, a robust team known for pulling off surprises in major tournaments. England will need to start strong if they hope to succeed.
Japan, another team in the group, shouldn't be underestimated. The Brave Blossoms' victory over South Africa in the 2015 Rugby World Cup remains one of the tournament's most shocking upsets. Because of Japan's propensity for surprise victories, England must stay vigilant.
The United States and Tonga complete England's group of opponents. While the United States and Tonga may not be as formidable as England's other rivals, they are far from being pushovers. Competing against these teams will allow England to amass points and narrow the gap with the rest of the field.
England RWC 2023 Prediction
As the 2023 Rugby World Cup commences, England will be among the top contenders. The team is strong and has consistently performed well in major tournaments. If they can top their group, they have a solid chance of advancing to the championship game.
Did England Host the Rugby World Cup?
England has hosted matches at three Rugby World Cups in 1991, 1999, and 2015. The finals of two of these tournaments were held in England. The 2015 edition was primarily England's event, although Wales acted as a sub-host.
The 1991 and 1999 World Cups were spread among the nations constituting the former Five Nations – England, France, Ireland, Scotland, and Wales. These tournaments were significant events, with the 2015 final match between New Zealand and Australia setting a new record for attendance.
England Rugby World Cup History
England has a rich history in the Rugby World Cup, having been one of the top performing teams since the tournament's inception. Here's an overview of England's Rugby World Cup history up until 2021:
1987: England played in the inaugural Rugby World Cup in New Zealand and Australia. They reached the quarterfinals, where Wales defeated them.
1991: England hosted matches and reached the final, which was held at Twickenham Stadium. However, they lost to Australia 12-6.
1995: England reached the semifinals in South Africa, where they lost to New Zealand. The match is well-remembered for Jonah Lomu's exceptional performance, scoring four tries.
1999: England made it to the quarterfinals, but were defeated by South Africa.
2003: This was England's most successful World Cup to date. The tournament was held in Australia, and England won, defeating Australia 20-17 in the final. This victory was sealed with a dramatic drop goal from Jonny Wilkinson in extra time.
2007: England again reached the final in France, but lost to South Africa 15-6.
2011: England's performance was disappointing in New Zealand, as France knocked them out in the quarterfinals.
2015: England hosted the tournament but suffered a major setback by being eliminated in the pool stage, becoming the first host nation to exit at this stage.
2019: England performed strongly in Japan, reaching the final but losing to South Africa 32-12.
Final Words
The 2023 Rugby World Cup is shaping up to be a riveting tournament, with England primed to make their mark. English fans can catch the action on ITV or live stream the matches on ITVX.